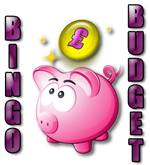 No matter how much spare cash you have to play bingo, there are plenty of different sites around to play in the UK. And while some sites may seem more appealing because of the huge jackpots that they have on offer, it can sometimes be nicer to play on the smaller sites, where it's more about having fun and enjoying an online get-together with other bingo fans than going all-out for the big cash prizes all the time.
That's exactly what you can do at Chitchat Bingo – a site where you can play for as little as 1p a card. There are still some great jackpots to play for, but if you like to keep your stakes low, this is a great site to join. Of course, you can always increase your chances of winning by buying a number of cards per game. You can check out which games are being played when, and easily see what the prizes and jackpot totals are for each game on the Timetable page of the site. If you're keen to play a particular game, it's possible to pre-book your tickets so that you don't risk missing the beginning of the game – a great tip for busy people.
One example of the fantastic games you can play on Chitchat is the Titan jackpot in the Bingo Buffet. This is a 5p game that is played over five hours each day and has a minimum jackpot value of £20,000, and you can even play for as little as 1p per card at certain times during the day. To land the Titan, all you need to do is call Bingo in 33 calls or fewer.
Of course, part of the main appeal of a site like Chitchat is that it's as much about the chat as it is about the bingo. Playing on this site, you're guaranteed the opportunity to meet lots of other players while you're there, and get as much out of the socialising as you do the fun and excitement of seeing your numbers being marked off. And if you also follow the site through Facebook and Twitter, you'll receive notifications of any special competitions and giveaways that are coming up.
Play for a few pence a time on Chitchat, and you'll have plenty of laughs with fellow players while you're there, as well as being in with a chance to win some great prizes.