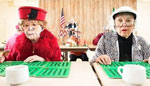 Sometimes when I'm sitting at home enjoying playing a game of bingo online, I wonder who else is out there doing exactly the same thing? Is there a typical player or not? Well, after looking into the facts it turns out there are all sorts of people who love online gaming and bingo in particular. In case you were also curious – here are just a few... which one are you?!
The housewife - I'm not going to say 'bored housewife' because I don't think that's entirely fair... ladies with time on their hands is perhaps more like it! And who wouldn't love heading on over to Chitchat bingo for a bit of entertainment and a good gossip from the comfort of their own sofa.
The businessman - In need of a bit of down-time on his lunch break, he loosens his tie and logs in to his favourite site for some much needed light relief: slots, poker or even roulette – what ever takes his fancy.
The silver fox - Male or female, this player of a certain age is with-it enough to make the leap from bingo hall to online bingo playing and can see all the benefits. Using their skills from years of doing it in real time they are formidable opponents!
School kids - I am not suggesting we encourage children to gamble of course, but children have been playing educational bingo games for years and it is a really good way to exercise the brain and really engage their interest in numeracy skills.
Girl's night in - Seeing as staying in is the new going out, what could be more fun than logging on to an exciting game of bingo with a few friends while you enjoy a catch up and perhaps the odd glass of wine? You never know – you might end the evening on a big win too!